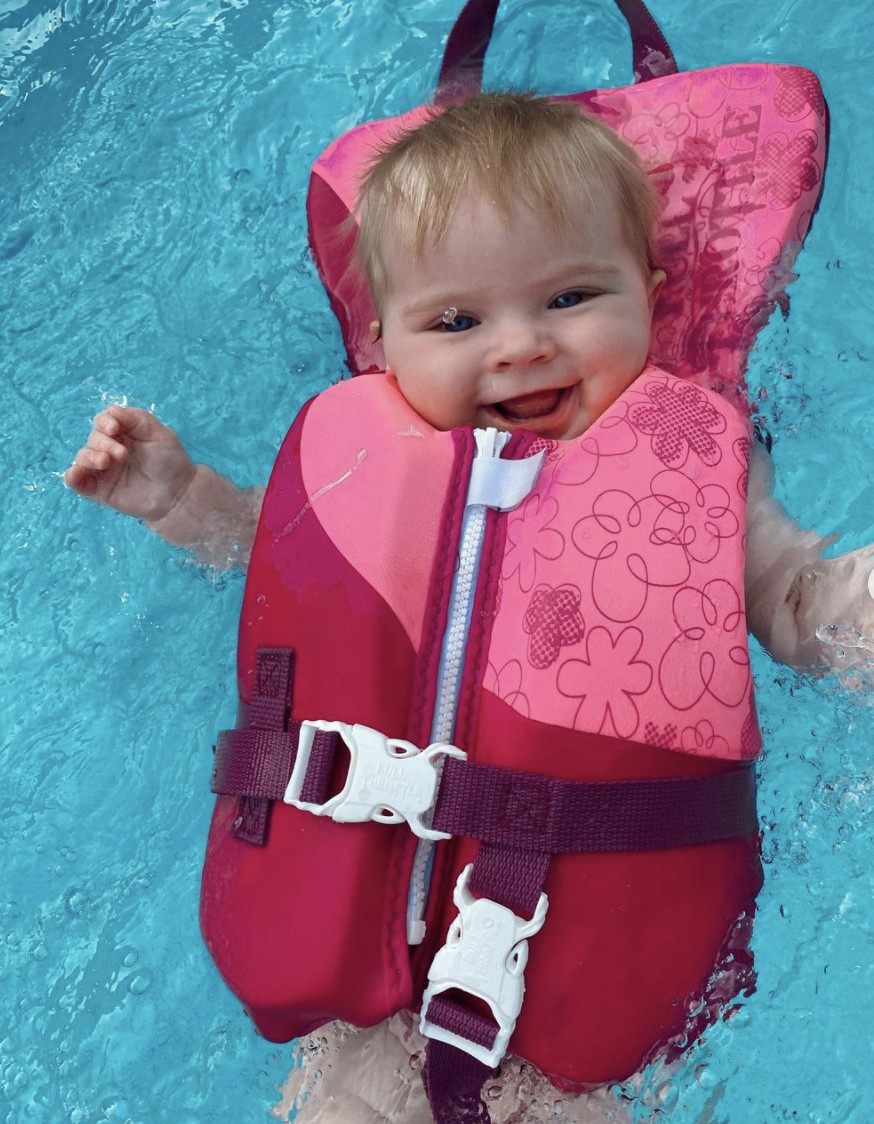 One thing I know is that Sage is loving summer just as much as her momma! We have had so many fun pool days, spent evenings outside with family, and are soaking up all of the sun. It really is so sweet to see her discover the world and learn new things every day. I wanted to put together some of our summer favorites we are using and loving for Sage at the moment and share them with you below:
Many people asked about this life jacket when I shared a photo of Sage at the pool, and we love it! I really like the extra head support and how comfortable she is in it. We're also excited to try this float, too – she is a little fish! 
Sage is so cute with this! She loves looking at the bubbles and trying to grab and pop them. I'm so glad we bought this. It makes so many bubbles, plays music, and lights up, definitely keeping her interest for a while.
This is such a fun little swing and surprisingly easy to assemble. It almost feels like a Sage-sized hammock, and it's so cute. This is a great way to awaken some of that sensory system in a new way, and really adorable to see her take in the world while swinging away. 
These Lou Lou and Company rompers have been a summer game changer for us. They are easy to throw on and fit so well in a diaper bag, and I love how adorable the button detail is. My personal favorites are the Goldie and Poppy prints.
For the days we don't venture to the pool, this splash pad is so adorable to cool off. You could also opt for their mini pool if you have an infant that may want to hang out in the water for a bit in the backyard. They have the cutest patterns!
Sage certainly has a collection of summer suits, but we love these from Ruffle Butts. They keep her skin well protected from the sun with the rashguard and have such cute patterns. Not to mention, could the ruffle detailing be any sweeter?
These sandals are the absolute best. Piper Finn overall has the most amazing line of shoes, but when I saw the peep-toe, I melted! They have such classic colors, and their sizing system is really easy to follow when trying to fit shoes for your infant.
I know this one is kind of funny, but with Sage being so active and us going more places now, I absolutely love this thing. We can loop in all of her favorite toys and suction them to her highchair, a table, or really anywhere we are, and she can play and keep herself occupied without all of her toys falling on the floor every five seconds. Game changer!
We wear this hat everywhere. It fits really well and has a nice wide brim to protect Sage's face from the sun. I love the breathable material because it doesn't feel flimsy and is very easy to clean. 
There are few things cuter than a baby in sunglasses, and I love this flower-shaped pair. They are super affordable and come in so many different colors for any summer outfit.
We read this book every single day and know we'll be using it for a while! The interactive element of hearing the sound is something Sage is already starting to figure out independently, and I cannot wait to continue watching her learn with this.
I can't wait to see everyone having fun in the sun with their babies this summer! If you happen to try any of these, please share them with me, I'd love to see them!
xo, Lindsay