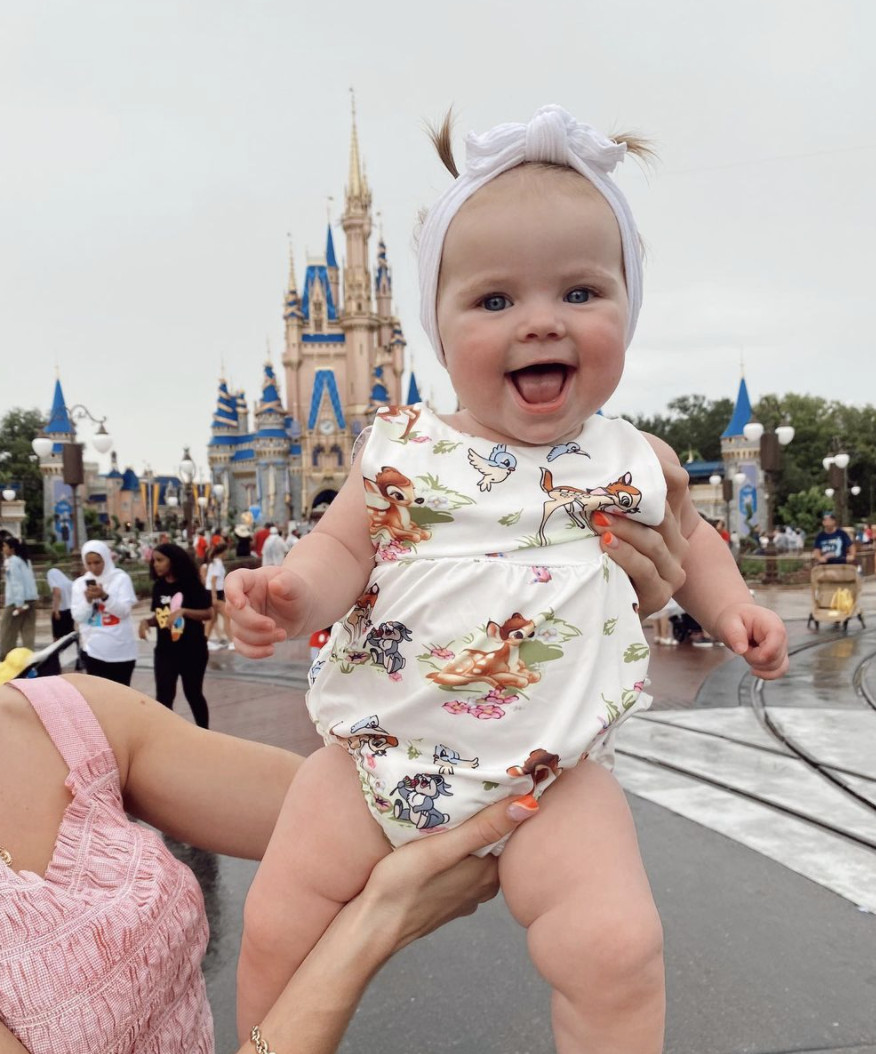 Sage took her first trip to Disney, everyone! It was seriously the best thing ever. Despite the rain, we had such a great time, and I cannot wait to go back when she's a little older with Sam, too. I had so many people asking about how we navigated Disney with an infant, so I wanted to put together a list of tips and tricks that helped make things a little easier. 
Lightweight Stroller
Normally we travel with our beloved Doona, but now that Sage is a bit older, she doesn't love being in a car seat for extended periods of time, plus she wants to soak in the world and be forward-facing. And for me, I wanted something a little more lightweight and compact for the park, so we bought this stroller. It has three reclining positions and good ventilation to keep babies cool and is a great price point!
Stroller Accessories
I definitely recommend looking into a few stroller accessories to maximize space and make things a little easier if the weather is crazy. This rain cover was a lifesaver with the daily rain and seemed to be a universal fit for all single rider strollers. It has ventilation sections and pockets in the bag to hold your items and keep everything dry. I'd also be sure to grab something to keep toys, pacifiers, and bottles from falling on the ground like these Bibs Loops or silicone straps. I never had to worry about Sage's toys getting dirty or getting left behind! Also, this stroller fan is a 100% must-have for not just Disney but summer with a baby in general.
Themed Outfits
Part of the beauty of Disney is being immersed in the magic! I couldn't take Sage there without having her wear a themed outfit, but I definitely spent way less buying these ahead of time versus spending money on them at the park. We ended up having her wear this sweet Bambi jumper, but I'd also purchased Little Mermaid as a backup and absolutely loved both. If you are a big Toy Story fan, I also had my eye on this Jesse onesie, too- everything is just so cute!
I wish I'd known about these sooner, but this is a must-have while traveling, so you can take pre-portioned formula on the go and not have to worry about using a scoop to get out the proper amount every time.
Hydroflask
Trying to locate clean and warm water at Disney isn't the easiest, so I actually just filled up this Hydroflask with warm water at the beginning of the day, and it stayed at a perfect temperature all day long! I know bottle warmers are super popular, but I found this worked better for me, and I can use the water bottle during workouts at home, too! This one holds 18 ounces of water, so it lasted us three bottles, but they come in various sizes for those that may need a different amount. 
Portable Highchair
Now that Sage is absolutely loving solids, this portable cloth highchair was so amazing for travel. It's compact and fits right in my diaper bag and can drape over almost any dining chair, so I never had to worry about where I would feed her if we decided to do solids instead of having her take a bottle.
Find a Baby Care Center
There are amazing centers throughout the parks at Disney for parents to go and change their babies' diapers, step out of the heat, breastfeed or pump, etc. This was definitely a nice place to go for a little break and collect ourselves as needed, and they are fully stocked with absolutely everything you could need for a baby if you may have forgotten or run out of anything during your trip.
I hope this makes things a little easier when taking your baby to Disney! I cannot wait for the next time we can take Sage!
xo, Lindsay