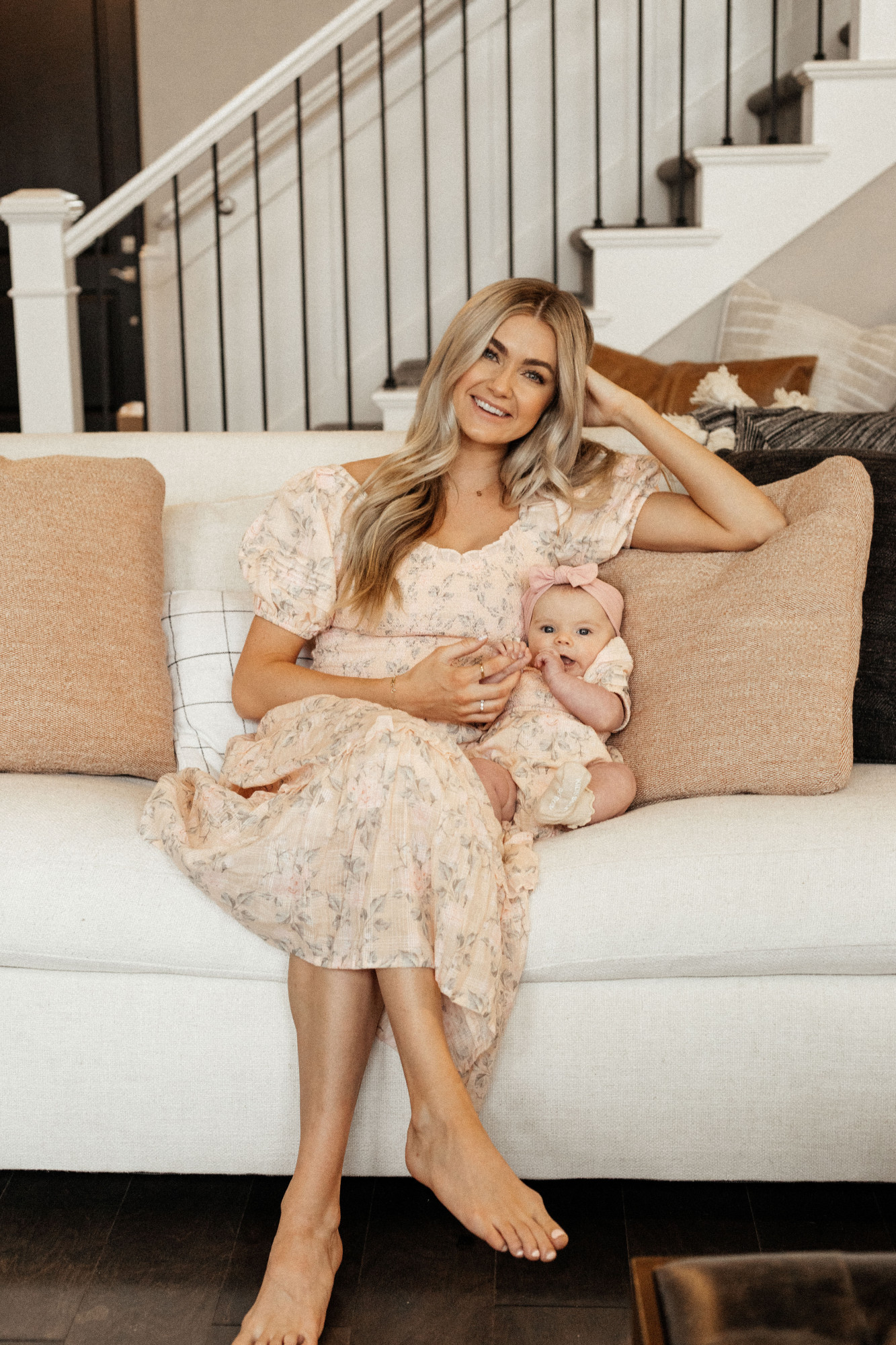 I've pretty much mastered the busy mom makeup while your baby naps look, and I'm here to share my routine and favorite products with all of you! Even if you aren't a mom and don't have much time for your makeup, this routine is perfect for you. It's just enough makeup to make you look alive, but it leaves out the contour and baking because who really has time for that? Makeup tutorials can be overwhelming, but I always find it helpful when I watch a relatable tutorial that's easy to do. I linked all the products below in order of how I apply them! Let me know what products you're loving lately. I'm always on the hunt to try new products. Also, I filmed the entire routine on our Youtube channel, so make sure you watch and subscribe!
Foundation: After I wash my face and apply my skincare and favorite primer, I use Giorgio Armani's Luminous Silk foundation in shades 6.5 and 4. I like to mix the two on a palette because I'm in-between shades! I blend in both my foundation and concealer with IT Cosmetics Heavenly Foundation Complexion Perfection brush. It's my absolute favorite brush because it's a 2-in-1 and delivers an airbrush effect.
Concealer: I'm obsessed with Too Faced's Born This Way Concealer in the shade Vanilla. I apply it between my eyebrows, under my eyes, on my upper lip and chin. I blend it with the other side of the  IT Cosmetics brush in upwards motions under my eyes for a nice little lift effect and then in circular motions everywhere else, so it blends in nicely.
Bronzer: I use the Physician's Formula bronzer and apply it as a contour without the stress or steps of a cream contour. It's really lightweight and foolproof! I apply it with an angled brush on my cheekbone, forehead, nose, and neck.
Blush: MAC's Warm Soul Blush has been in my routine for years! It's *lightweight* and adds just enough warmth into my face for dimension. I don't use a separate blush brush because time is of the essence, but I found this one (it's on SALE!) that's specific for blush application.
Highlighter: The Hyper Real Glow Palette from MAC is AMAZING! I use it for my highlighter and eyeshadow. I apply it across my cheekbones, nose, and on my eyelids. It's the perfect amount of glow! I love how it just blends right in and doesn't create a harsh line.
Eyeshadow: Lately, I've been mixing Physician's Formula Bronzer with the highlighter in the Hyper Real Glow Palette for my eyeshadow. It makes the perfect natural eyeshadow color, and I love how I'm using products already in my routine. If you're looking to downsize your makeup products or hate carrying around an eyeshadow palette, try this method out! Your bronzer creates the perfect base for your eyelid, and a little bit of highlighter in the inner corner of your eye and brow bone will make your eyes pop!
Eyebrows: I'm all about the natural eyebrow! I have naturally thick and bushy brows, so I brush them up with this brush and apply a clear gel to hold them in place. Super easy and only takes a second to do!
Mascara: I use the Babe Lash Enriching Mascara, and it's incredible. It conditions, defines and lengthens your lashes. It doesn't clump at all and really gives you that WOW factor!
Lip Liner & Gloss: My favorite Lip Liner is by NYX Cosmetics in the shade Nude Suede Shoes. It just glides right on and helps define your lips. It stays on all day and is super hydrating! I top it off with Laniege's Glow Lip balm in shade berry for a glossy look!
Share your favorite makeup brands and products below!
xo, Lindsay