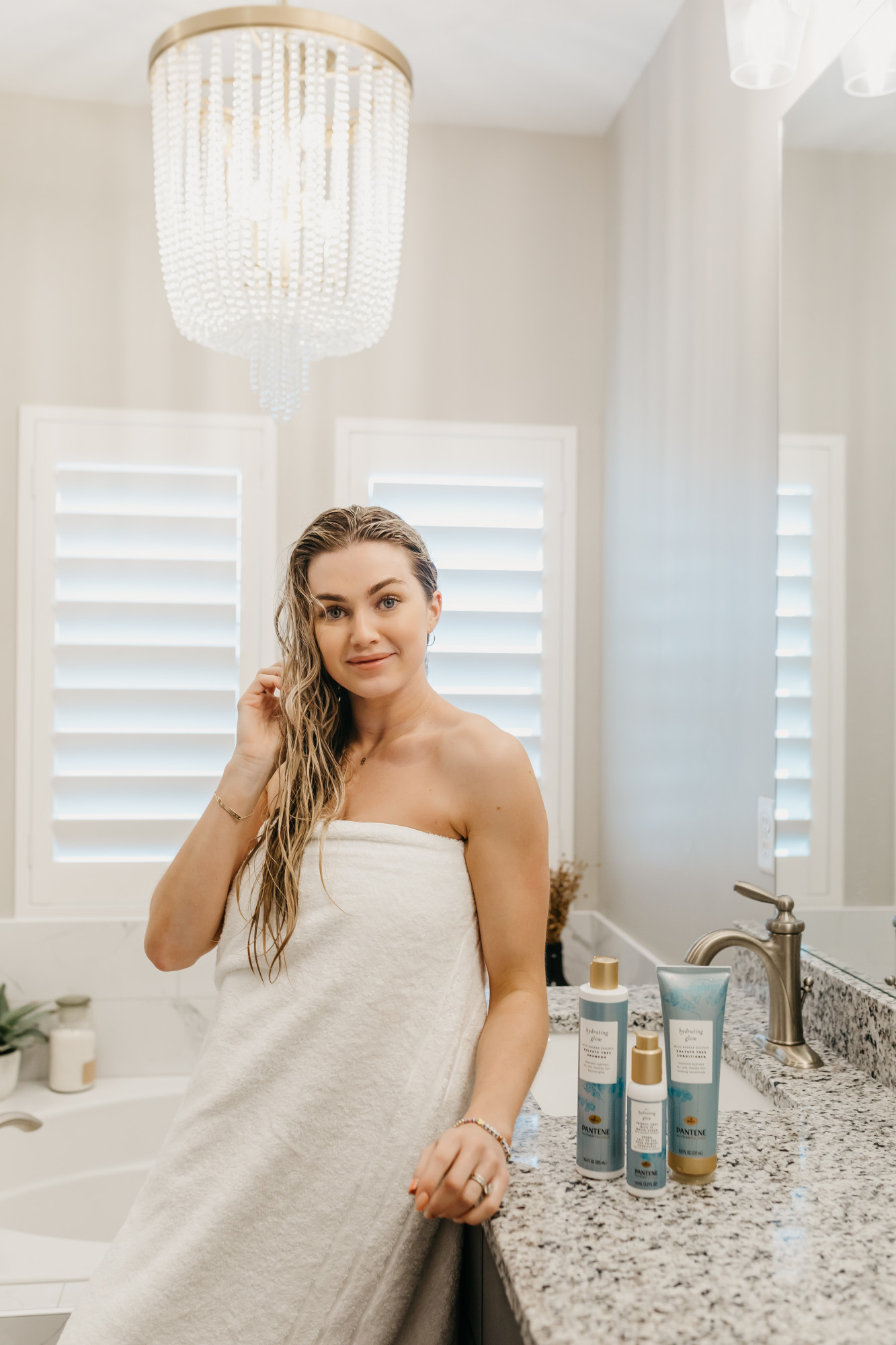 This post is sponsored by Pantene. All thoughts and opinions are my own.
I've been really into my hair care game lately. I feel like we all spend so much time and money on our skin care, but don't really give much thought to our hair. Throughout my pregnancy, I researched the best products you should be using on your hair, especially as you prepare for postpartum, and I learned that we should be changing our hair products up with the seasons just like we do with our skin care. I always just used the same shampoo and conditioner, and that was pretty much it, but over the past year, I've mastered my top-shelf hair care products. Once you start giving your hair the products it's been craving, you won't want to turn back.
This winter, my hair was extraaaaa dry! I'm not sure if it was a combination of postpartum and the dry Utah air, but no matter what I did, my ends felt like straw. I started to use the Pantene Nutrient Blends Hydrating Glow with Baobab Essence Collection, which is curated by Pantene's team of scientists who are constantly working on sourcing the best ingredient blends that are nutrient-rich and effective. The Hydrating Glow Collection, which consists of shampoo, conditioner, and serum, is the line I've been using to help hydrate my hair! It's free of sulfates, parabens, dyes, and mineral oil and only contains incredible nutrient-rich ingredients that work to quench your thirsty hair.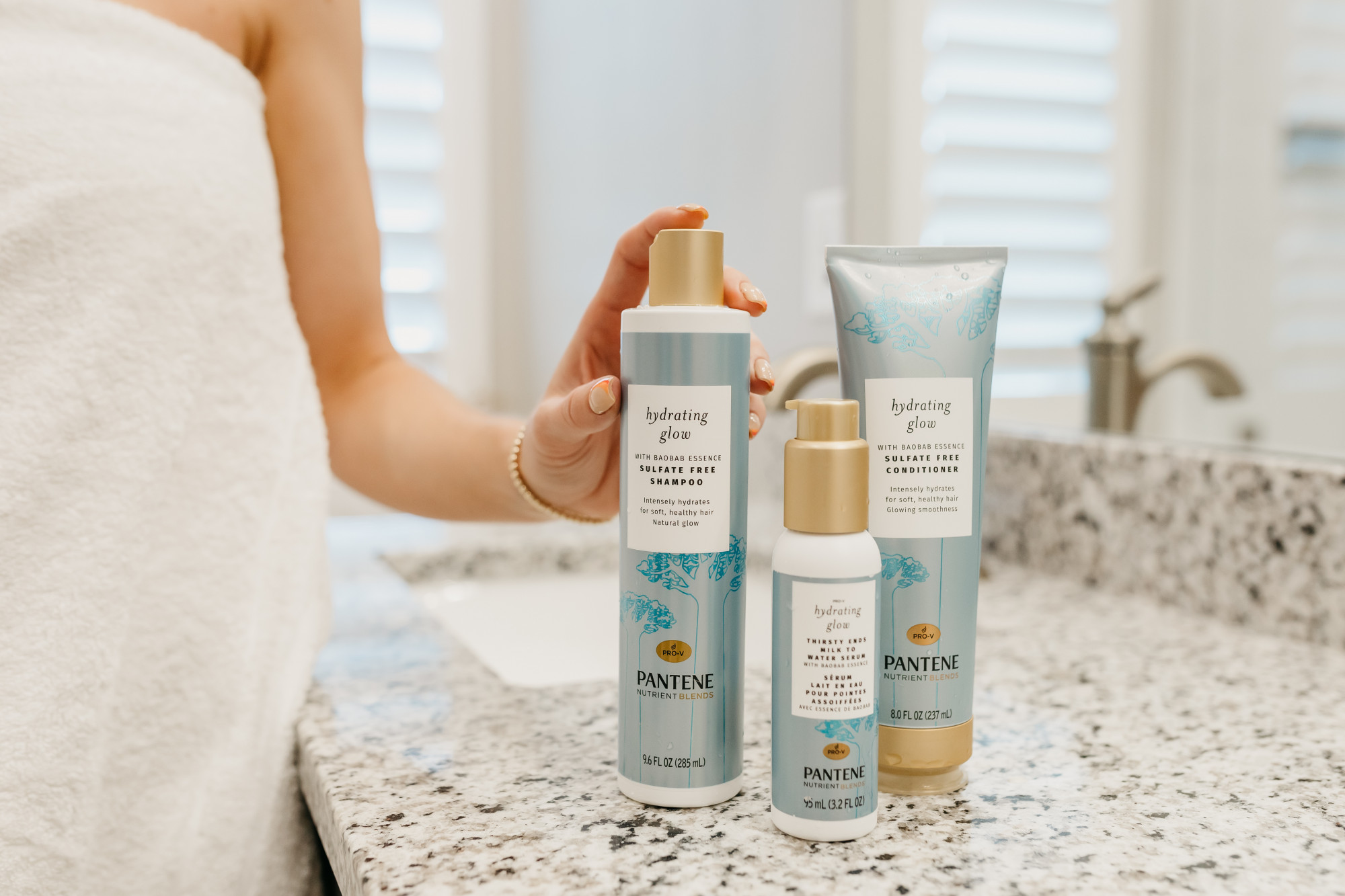 The Hydrating Glow Collection is unique because it contains Baobab essence. Baobab comes from Tanzania, where the Baobab tree is known as the "Tree of Life" because it can grow for over a thousand years. Tanzanian women have used the cold-pressed extracts from this tree in their beauty routines to keep their hair and skin hydrated through long periods of drought. Each product in the collection contains Baobab essence to help keep your hair hydrated through the driest of conditions and changing weather patterns.
I love the Hydrating Glow Shampoo because it gently cleanses your hair without removing its natural oils and glow. It's infused with a nourishing formula of pro-vitamin B5, antioxidants, and Baobab essence that deliver instant and long-lasting hydration. I use the shampoo daily, and only switch out when I'm using my hair growth shampoo system or toning products.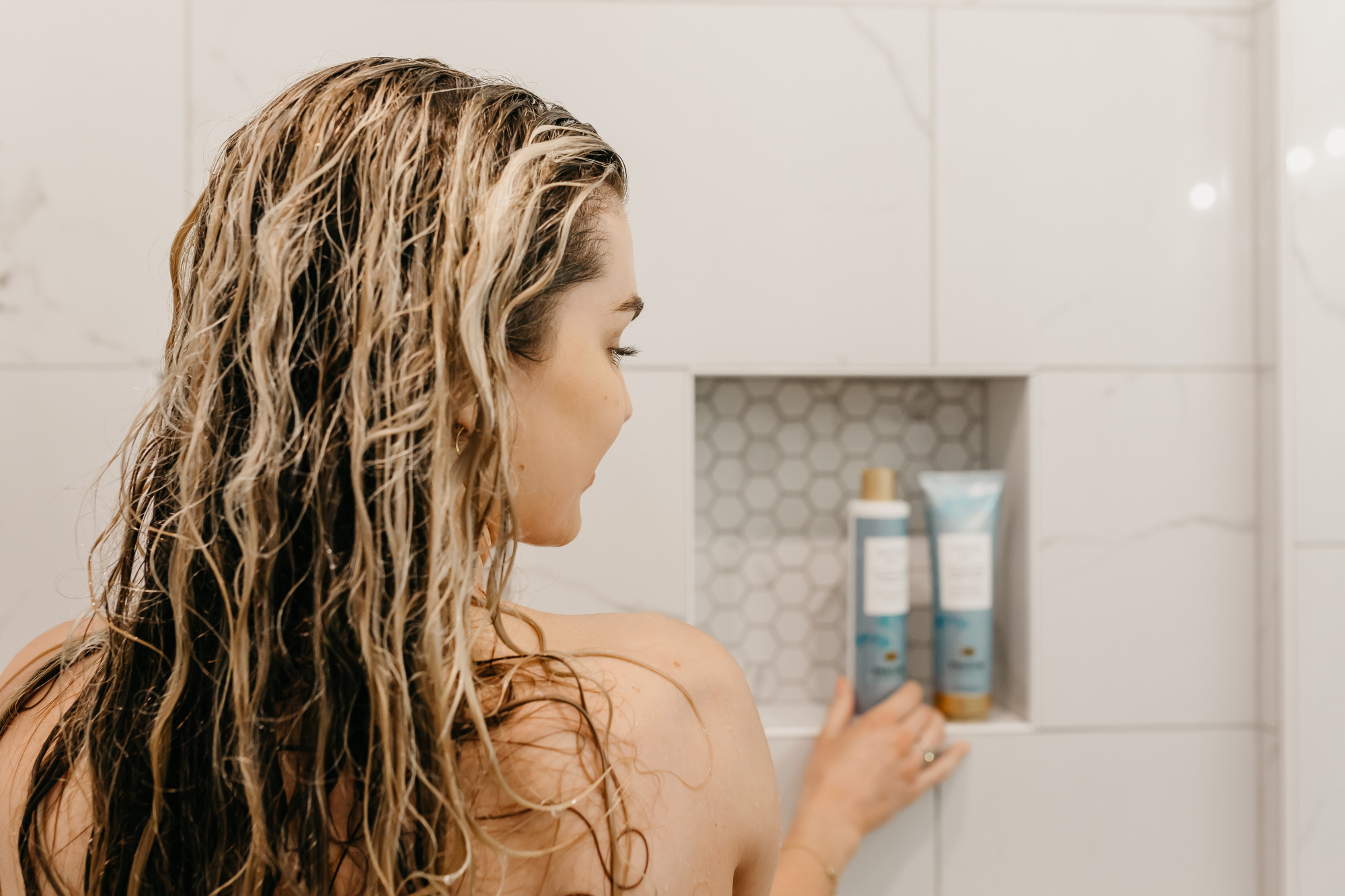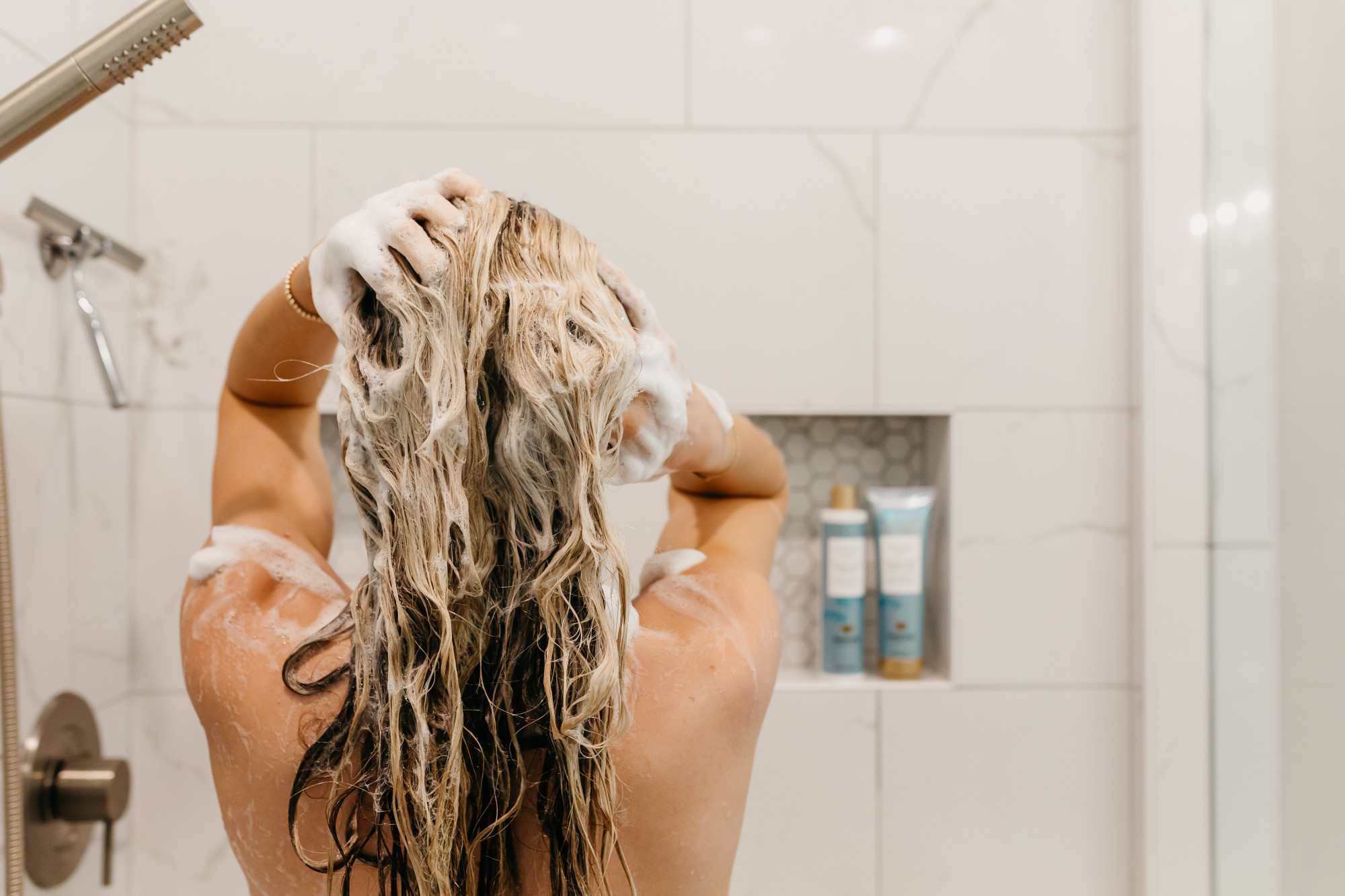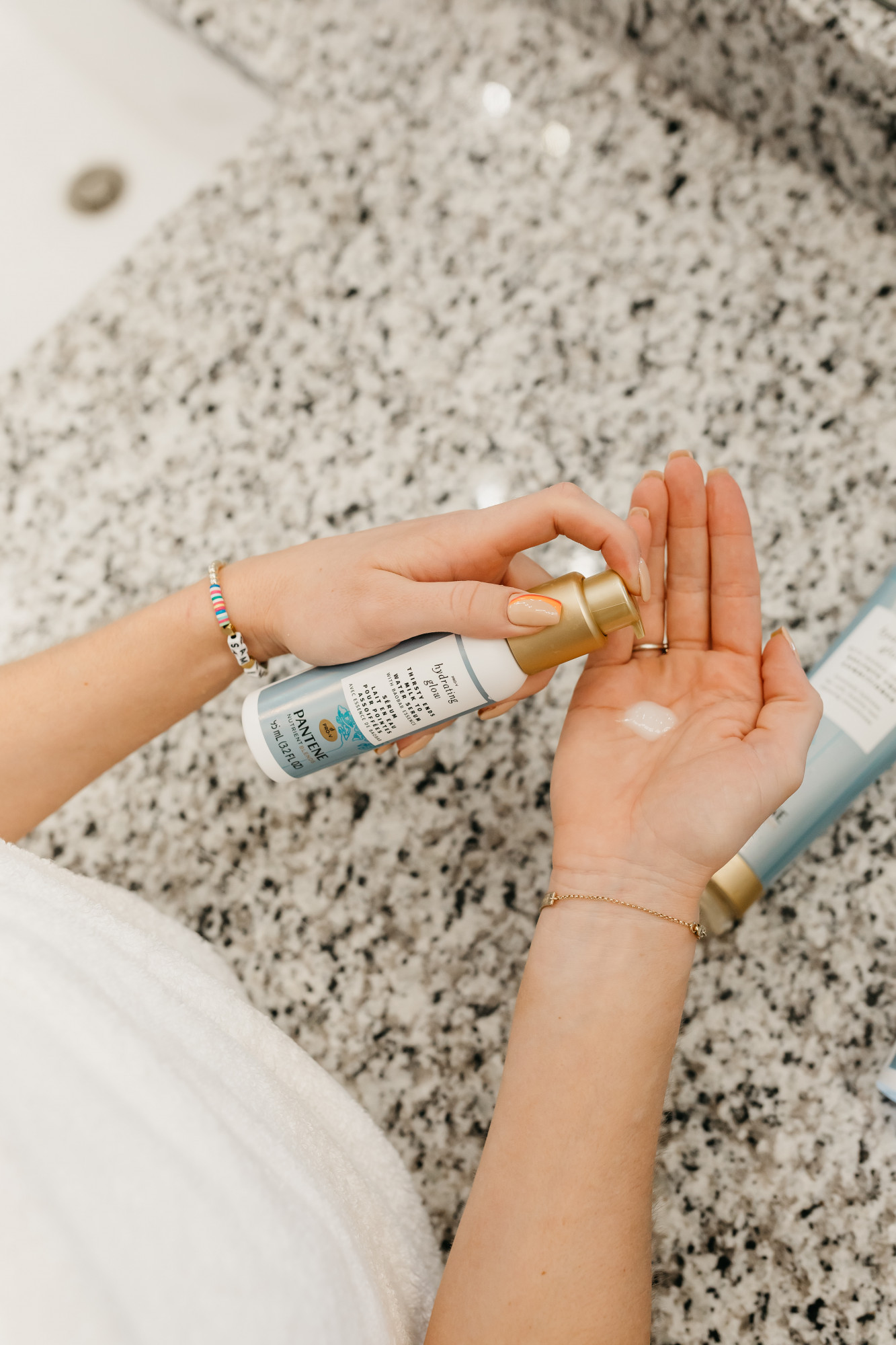 The Hydrating Glow Conditioner infuses the hair with weightless hydration and leaves your hair silky smooth. There's nothing better than a conditioner that quenches your thirsty strands but doesn't weigh your hair down or leave it feeling greasy! If you have dry or damaged hair, this is a must-have for you!!
The last product in the collection, which might be my favorite, is the Hydrating Glow Serum. The formula melts right into your hands as you work it through your hair. It instantly locks in the moisture and works to repair split ends while giving your hair a healthy glow. Yes, a glow serum isn't just for your skin – your hair deserves to glow, too. This product has instantly changed my hair – especially my ends. I tend to get a lot of breakage, especially in the winter months or when I'm over-styling my hair, which is a miracle product in my hair care routine. I use it weekly (pretty much every other day) after the shower and work it into my wet hair. You can also work it into dry hair after you style it for a little extra glow. If you're looking for one more product to add to your routine, this is the one!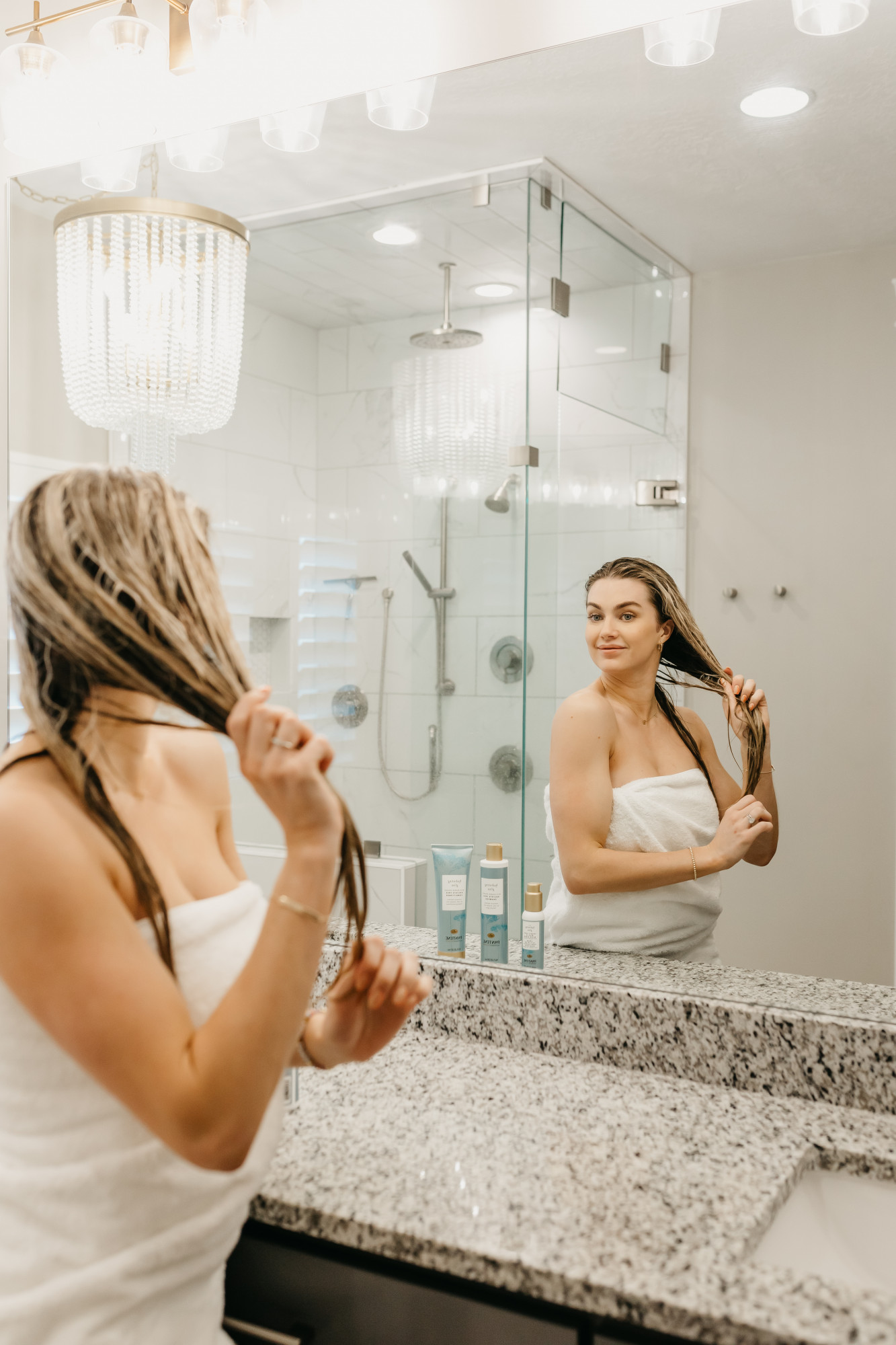 As we transition to the warmer months, we can't forget that the sun damages not only your skin but also your hair! I'll be using the Hydrating Glow Collection from Pantene's Nutrient Blends Collection to help combat what the ever-changing weather does to my hair! I love treating my hair to some TLC, and the Hydrating Glow Collection is just what my hair needs to remain hydrated, clean and extra glowy. And remember, DRINK WATER. Hydrating your body from the inside out on top of giving your hair thirst-quenching ingredients will help keep your hair healthy, hydrated and luscious all year long.
You can shop the Pantene Nutrient Blends Hydrating Glow Collection at Target!
xo, Lindsay