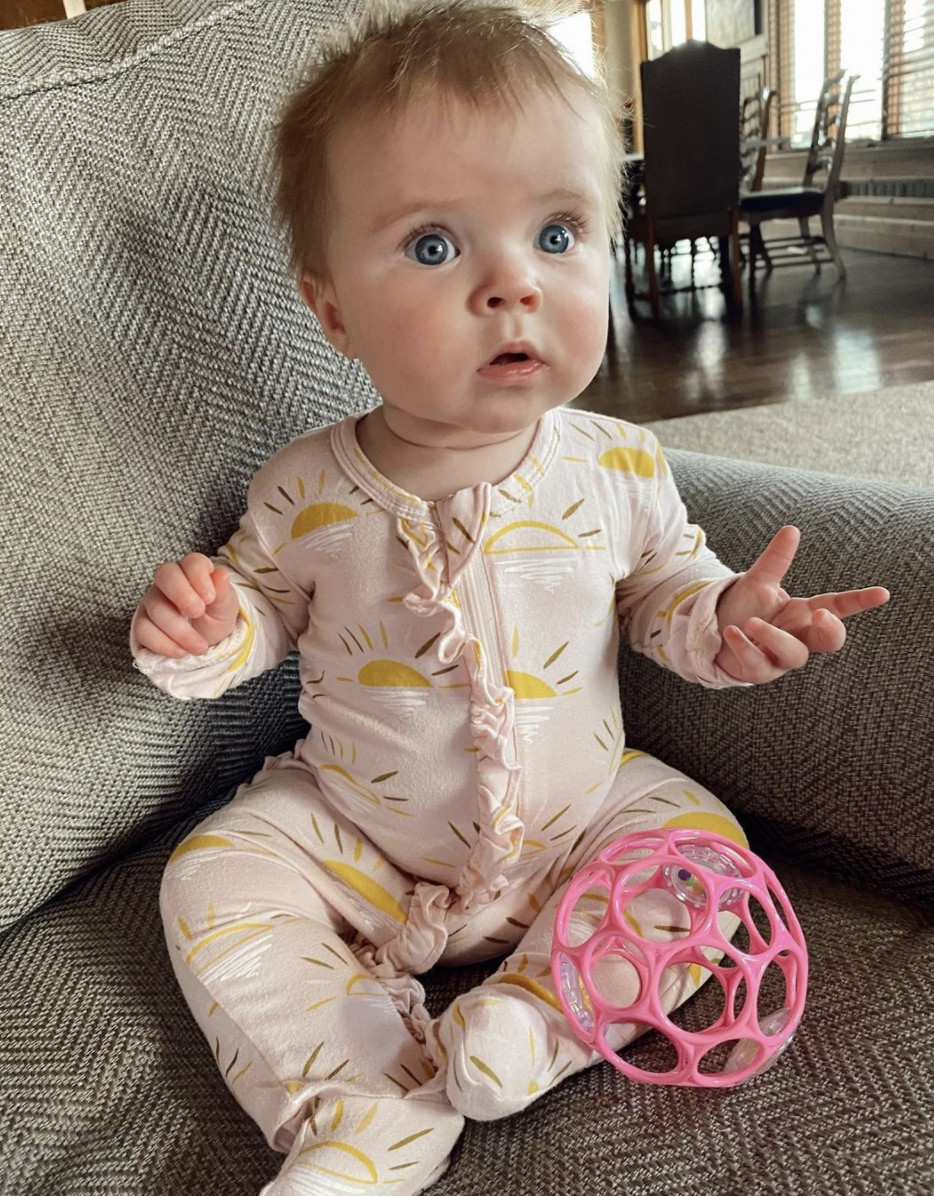 It wasn't until recently that we started having a true bedtime routine with Sage, and I honestly love it. It feels like such a special time together to unwind from the day and be together as a little family of three. Some of you have asked what our routine looks like, so I figured I'd do a quick blog post of what we do before bed!
We start our routine about an hour or so before Sage is supposed to go to sleep. With how our schedules are, the time varies, but we try to put her down between 8:00 pm-8:30 pm. First is bathtime! Sage absolutely loves the water, so this is always fun. We've been using Honest, or Mustela Baby products lately, both of which smell SO amazing, and have these little ballerina toys in the bath to play with (hey, have to start her love of dance early!). We also love to use the hooded animal towels after bath time to make sure her head always stays nice and warm.
After bathtime, we have a mini spa session. I lather her up with lotion, comb out her hair, put comfy jammies on, and get cozy. It's seriously the cutest thing! I love using a lotion with lavender or other calming properties to help her unwind from the day and relax. I'll usually put a sleep sack on at this time, too, just in case she falls asleep during her last bottle. As you guys know, I absolutely loved the Dreamland Baby Co. weighted blankets and swaddles for bedtime, but now that Sage sleeps on her stomach most of the time, we've been using wearable blankets like the Copper Pearl sleep bag.
After Sage is all bundled up and ready for bed, she usually takes a bottle while reading a story. I love the Comotomo bottle because it comes in a few different sizes, and it's flexible enough for her to hold onto. We also bought these little handles for her bottles because they fit perfectly on the Comotomo for when she wants to feed herself. She is Miss Independent these days! For storytime, a few books we love right now are Moo, Baa, La La La to work on her sounds, Wherever You Are My Love Will Find You (grab the tissues!), and The Going to Bed Book. 
If she hasn't fallen asleep already, we'll change her diaper one last time and transfer her to the crib for a good night's sleep! It's such a sweet routine we have together, and I cherish every single moment, I know it won't last forever!

xo, Lindsay